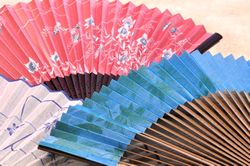 "Takashima Senkotsu" (Fingers of folding fans)
Once people in Adogawa planted Japanese bamboo on the banks against flooding of Adogawa river. We have produced Takashima Senkotsu with those bamboos for 300 years. It occupies about 90% of the market share now.
"Unpei-fude" ( Writing Brush for Calligraphy)
Unpei-fude have been very popular among many calligraphers for years. They are very powerful and flexible for calligraphy.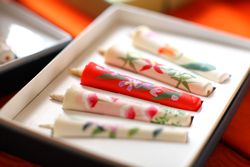 "Wa Rosoku" (Handmade Candles)
Wa Rosoku is used for the ceremonies of Shinto or Buddism. They have less smoke and a steady flame. It is appointed as a traditional handiwork by Shiga prefecture.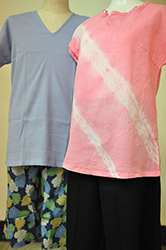 "Takashima Crepe"
"Takashima Crepe" called "Takashima Chijimi" has been produced here in Takashima since Edo era, which is famous for its comfortable touch of clothes with wrinkles against humid weather in Japan. They are used for casual clothes, sport wears, nightclothes and so on. They occupy 75% of the market share now.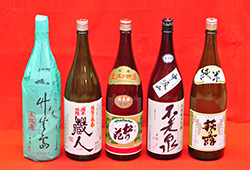 "Jizake" (Sake of Local Brew)
We have some sake brewers of long standing in Takashima City because we have high quality rice for sake brewing and the underflow water from a deep range of Kosei .Their brands are "Chikubu-Shima" of Makino town, "Biwa-no-Chojyu" of Imazu town, "Hagi-no-Tsuyu" "Kibou" of Takashima town, and "Matsu-no-Hana" "Furousen" "Waka-Ebisu" of Shin-asahi town.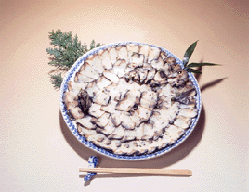 "Saba no Narezushi" (Fish fermented with salty rice)
Saba no Narezushi (Fish fermented with salty rice) have been made as preserved food since old days. They are fermented fish (mackerel) with enough salty rice for a long time.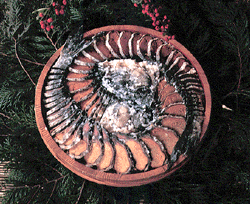 "Funa Zushi" (Fish fermented with rice)
"Funa Zushi" (Fish fermented with rice) have been made as preserved food since old days. We first preserve crucian curps in salt. Then we ferment them with salt and rice again and again for a long time. They are quite popular among sake drinkers.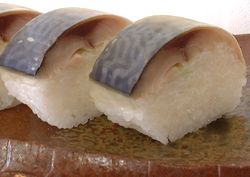 "Mackerel sushi"
Mackerel sushi is one of the famous Kyoto cuisines, and is a treat to be eaten at festivals and the entertainments of the four seasons. The mackerel brought ashore at the Wakasa Bay shoreline on the Sea of Japan side was salted and transported by cart over the mountains to the towns of Kyoto far from the sea.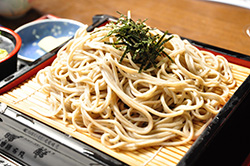 "Hakodate Soba" (Buckwheat noodles)
In Imazu area we grow buckwheat. And we make buckwheat noodles. You can eate fresh tasty buckwheat noodles there. You can also get buckwheat noodles as souveniors.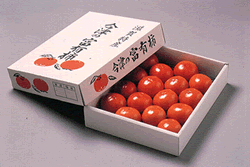 "Fuyugaki" (a persimmon)
In Imazu area many farmers have grown sweet juicy persimmons for many years. From the end of October to December they crop and sell them in Kyoto, Osaka and Kobe.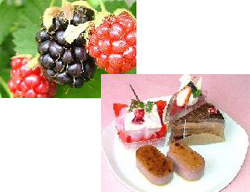 "Ado Berry"
We grow Ado Berry on some farms in Adogawa. We crop them in June. Please try the peculiar fragrance with sweet and sour. We sell an Ado Berry gelato, cake, juice, and wine. You can get them at "Michi-no-Eki, Tojyu-no-Sato-Adogawa" (Road Station). See; http://www.adoberry.jp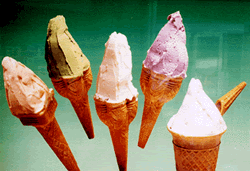 "Gelato"
This is the original gelato made of fresh fruits in Makino area. We sell them at only Makino Pic-Land. The visitors there love them very much.