Top
 / Area Guide : Takashima Area

It developed as the castle town of Omizo Castle which Nobuzumi Oda (a nephew of Nobunaga Oda) built. The features of the castle town are still remains. Shirahige Shrine (Shinto shrine) is famous for its beautiful Soong coating torii which stands in the Lake Biwa. It is known as long-lived God. "Villages" which remodeled old merchant houses are opened as restaurants, stores and studios again. They are now popular spot among the tourists.
"Shirahige Jinja" (Shirahige Shinto Shrine)

Shirahige Shinto Shrine is along the road Route 161. Its huge red torii stands in the lake across from the shrine. The main building of the shrine is appointed to the national important cultural property.

"Streets of Omizo" (Yatsubuchi Waterfall)

The castle town of Katsuno which was formed at the same time as Omizo Castle bustled with many craftsmen and merchants from the Edo period until recent times. The streets of Katsuno let the people of today see the waterways and buildings which created sections in the town.

"48 statues of Buddha at Ukawa"

A group of Amida Buddha statues enshrined at the foot of the mountains about 500m north of Shirahige Shrine. The stone Buddha sit quietly facing east and vary slightly in height and their postures are also slightly different, with benevolence-filled faces, innocent faces, etc.

"Hata no Tanada" (terraced paddy rice fields)

You can see 359 rice fields located at the foot of Mt. Hira. They are managed well and looks very beautiful. They are chosen as one of the 100 selections of terraced paddy rice fields in Japan.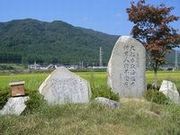 "Manyou Kahi" (a stone monument inscribed with ancient poems) A stone monument inscribed with ancient poems stands in Katsuno. So-called "Nishi-Ohmiji" , Route 161 runs from Kyoto to Hokuriku( northern part of Japan), which once was an important roads. Some poems were in the book, "Manyoshu" .