Top
 / Area Guide : Shin-Asahi Area

In Shin-asahi area fertile plains spread out from Aiba-no-hills with a lot of green fields to Lake Biwa. The underflow water of Mt. Hira range begins to spring out in the fields and the waterway runs through the villages into Lake Biwa. Even today here you can see the pastoral landscape which was once seen in old days in Japan.
"Mitsubatsutsuji" (Rhododendron Azalea)

In spring, you can enjoy seeing the flowers of the Rhododendron azalea at the foot of Mt. Shimizu castle. From the top of the hill, you can see a vast panorama of Takashima City.

"Yoshi Gunraku" (Reed colony)

Reed colony has been the habitat for fishes and birds along the lake. And it is also preserve the quality of water. In March every year people burn them for their new shoots in spring.

"Takashima textiles"

The origins of Takashima textiles date back to the Edo period. The rainy, high-humidity climate here is well-suited to producing a variety of fabrics, ranging from thick materials such as canvas or industrial fabrics, etc. to thin materials such as underwear, etc.

"Oharahiko Jinja" (Oharahiko Shrine)

Oharahiko Shrine was built in the 13th Century which is really beautiful with maple leaves in autumn. Shichikawa Festival ( an intangible folk cultural asset ) is held there in May.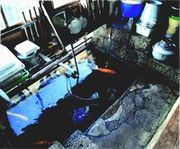 In Harie district there are a lot of springs with rich pure water. People there call this water "Syozu" which they use it with care for a long time. We also have some tours to this area for the tourists.

<Tour information in details>
"Harie Syozu no sato" Committee   Tel:0740-25-6566(Only Japanese language)