Top
 / Area Guide : Kutsuki Area

An ancient road called "Saba-Kaido" (mackerel road) remains through the mountains in Kutsuki. From Sengoku era to Edo era (1500-1800) through this road people carried seafoods including mackerels (saba) from Fukui prefecture to Kyoto. Through the road people in the village got not only merchants and goods but also the culture with them. Recently many people visit here to know about its history. Please come and feel something historical in Kutsuki.
"Buna-Genseirin" (Primeval Forests of Beeches)

Primeval forests of beeches are spread in the Sangokudake hill where borders Kyoto. It's said that they are the balometer how much abundance we have.They will make you satisfied with the mysteries of nature.

"Saba-Kaido" (Mackerel Road)

Kutsuki Ichiba (Kutsuki Market) was once a place for the peddler's staying. They took a rest with enjoying the various views of the villages in every season.

"Kosyoji Temple"
(The Garden in the old Syurinji Temple)

Ashikaga-Teien (Ashikaga Garden) is in Kosyoji Temple. The garden was built by Takakuni Hosokawa about 500 years ago. He built it to comfort Shogun Ashikaga Yoshiharu who stayed here for three years.

"Nichiyo Asaichi" (Sundays Morning Market)

You can buy the special products at "Michi no Eki (Kutsuki Shinhonjin)" (Road Station) from 7:00 a.m. to 11:30 a.m. every Sunday and national holidays. Many people come and enjoy shopping here.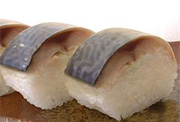 Mackerel sushi is one of the famous Kyoto cuisines, and is a treat to be eaten at festivals and the entertainments of the four seasons. The mackerel brought ashore at the Wakasa Bay shoreline on the Sea of Japan side was salted and transported by cart over the mountains to the towns of Kyoto far from the sea.