Top
 / Area Guide : Imazu Area

Imazu town is famous for "Biwako Syuko no Uta" . It's a song about rowing boats around on the Lake Biwa by the youth. We also have a museum of the song and the documents about its songwriter, Chiaki Yoshida and its composer, Taro Oguchi.
"Edohigan Cherry Trees"

In Imazu town there are 140 Edohigan cherry trees. And their blossoms are beautiful in spring, especially at "Sanamidera Temple" .

"Kakitsubata" (Iris)

Near Viladesuto Imazu we have a pond of irises. They begin to bloom in early summer. Every year they fascinate many photographers at their best.

"Soba no Hana" (Flowers of Buckwheat)

From the end of September to October you can enjoy seeing the flowers of buckwheat the foot of Mt.Hakodate. You can enjoy the taste of buckwheat noodles (Hakodate Soba).

"Zazenso" (Skunk Cabbage)

Flowers of the skunk cabbages tell us coming of spring in Takashima. They clump at some places in Imazu, which is known as the southern limit of the volunteer skunk cabbages. It is appointed the environmental preservation area of Shiga prefecture.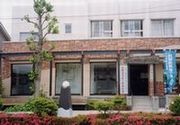 In the "Biwako Syuko no Uta" museum we have not only some documents of the song but also local special products.

Access: 5 minutes walk from Omi-Imazu station, JR Kosei Line