Apprication「BIWAKO TAKASHIMA TRAVEL GUIDE」
BIWAKO TAKASHIMA
TRAVEL GUIDE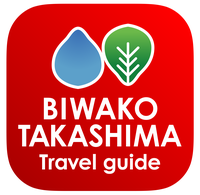 ▼Download▼
This travel app provides sightseeing information of Takashima City, Shiga Prefecture.
You can get useful coupons. You can also, for a limited period, apply for a free gift once completed a stamp rally.
We hope you enjoy your visit using this application.

■Main functions
・Map
・Coupon
・Links

■Map
・This app introduces several information of "Shopping" "Food and drink" "Experiences" "Sightseeing" and "Accommodation".These pages will be helpful for your visit.
・The map is viewable offline, but please use occasionally other online map for more accurate navigation.
・This app uses your smartphone's location.

■Coupon
・You can get useful coupons that you can use at stores where applicable.
・Each coupon can be used only once.
・Please show the shop clerk your mobile coupon before your order or checkout. You will not receive any offer if you miss doing so.
・Please let the shop clerk check your coupon, and once verified, tap on it (then you can see that the coupon turns "used").
・Coupons are only displayed in Japanese.

■Links
・See the latest information and model courses.

■Notes
・Based on GPS, the map sometimes works less accurately due to connection problems.
・The map and stamp rally use the GPS function to acquire location information. When using GPS, battery consumption may be higher than expected.
・Using a mobile phone while walking is dangerous. Please use it after stopping in a safe place.
・Please note that automatic data transmissions of this app can result in an expensive charge depending on the contract of your mobile.

■Setting language
・If the user's device language is set to a language to non-Japanese, the app is automatically displayed in English except for some functions.

■Supported OS
・ Android 8.0 / iOS 12 or newer versions

■Modification
・Without notice, this app may modify its contents, functions and methods at any time.We may suspend or close this service regardless of the reason.
 In this case, we cannot accept responsibility for any loss or damage which may arise from the use of the application.

■Copyright
・The texts, photos, illustrations and other information on the app are protected by copyright, as well as the application itself.
 It is not possible to duplicate or divert content on this application without permission unless authorized by copyright law such as "reproduction for private use" or "quotation."

Launched and supervised by Takashima City & Biwako Takashima Tourism Association (PIIA)
Developed by Neutral Software Inc.